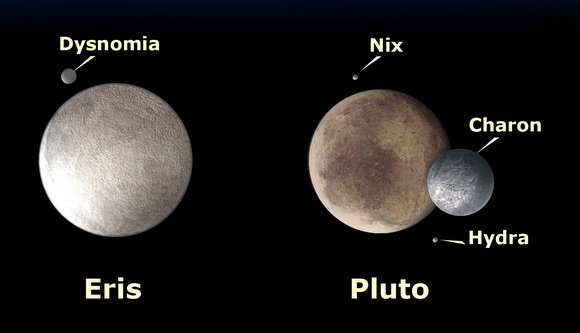 The largest asteroids are called planetoids.
.
Planetoids
planetoid is another term for asteroids, which are also called minor planets.
planetoids are small celestial bodies that orbit the Sun.
minor planets can be dwarf planets, asteroids, trojans, centaurs, Kuiper belt objects, and other trans-Neptunian objects.
.
Other planetiods
Objects in Kuiper Belt
– Â region of the solar system beyond the orbit of Neptune, believed to contain many comets, asteroids, and other small bodies made largely of ice.
– Â including Pluto and Charon are often termed Trans-Neptunian Objects (TNOs) because they are located beyond the orbit of the planet Neptune.
– Â more than 100,000Â Kuiper Belt Objects (KOBs) have been discovered.
– Â 70,000+ KBOs that are more than 60 miles in diameter.
in the outer reaches of KBOs
– Â more than 80 AU from the Sun; astronomers have recently discovered several objects that rival or greater in size of Pluto.
the largest object
Eris – it has a diameter of about 1,562 miles and also has a single moon – Disnomia.
.
Back to  Solar System page.