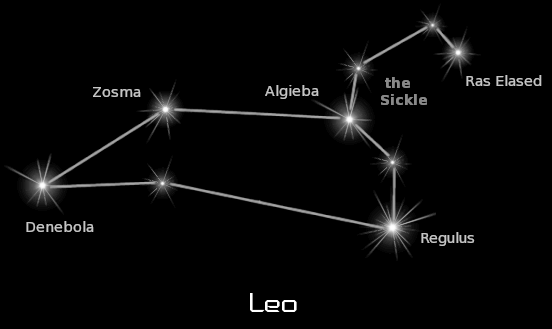 Abbreviation: Â Leo
English Name: Â The Lion
Genitive:Â Regulus
Hemisphere:  Northern / Southern Hemisphere (Underlined means the more area in square feet in Southern Hemisphere.)
Location:Â Between the constellations of Virgo and Cancer.
Visible between latitudes: Â +90 and -65 degrees
Best season: Spring
Seen in three seasons:Â Winter, Spring and Summer
Best seen in:Â  March/April
Seen between:Â January and June
Right Ascension (RA):Â  11 hour
Declination (DEC):Â Â +15 degrees
Area (square degrees): Â 947Â (12th)

Leo (The Lion)
Large and easily identified constellation of the Eclipitic.
Its brightest star is magnitude +1.0 Regulus, you can find Leo in the sky by looking for the "Sickle" starting at Regulus and following the backwards question mark or a hook by an easily recognizable pattern of six stars. (To find Regulus, use the Big Dipper for the "Sickle".)
Leo contains many bright galaxies; there are five of Messier's Catalog.
The Sun passes through it from 10 August to 16 September, so better to view it in the month of April.
Messier Objects
Features of Interest
Leo Triplet – Probably the most interesting member of the Leo Triplet was too faint for Messier to notice. (See the drawing; NGC 3628 (bottom), M66 (top right) and M65 (top left) – all three are large sprial galaxies.)
NGC 2903 – Other pretty spiral galaxy in Leo, which Charles Messier missed when compliling his catalog.
Named Stars
Regulus (Alpha Leo)
Denebola (Beta Leo)
Algieba (Gamma 1 Leo)
Zosma (Delta Leo)
Ras Elased Australis (Epsilon Leo)
Adhafera (Zeta Leo)
Chort (Theta Leo)
Al Minliar al Asad (Kappa Leo)
Alterf (Lambda Leo)
Ras Elased Borealis (Mu Leo)
Subra (Omicron Leo)
Others
Photo of the constellation;Â Leo (the bright object in the centre of this photo is the planet – Jupiter), as it appears to the naked eye. (Lines have been added for clarity.)
Sky Chart  –  Leo
List of stars in Leo.
Back to The 88 Constellations Lists  page.