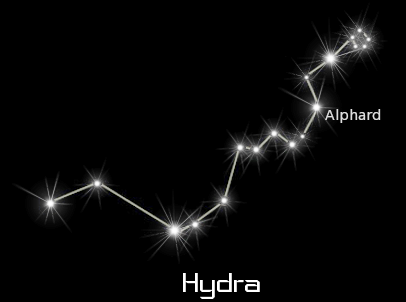 Abbreviation: Â Hya
English Name: Â The Water Snake
Genitive:Â Alphard
Hemisphere:  Northern / Southern Hemisphere (Underlined means the more area in square feet in Southern Hemisphere.)
Location:Â Between the constellations of Crater and Antilia.
Visible between latitudes: Â +60 and -90 degrees
Best season: Spring
Seen in three seasons:Â Winter, Spring and Summer
Best seen in:Â  April
Seen between:Â February and May
Right Ascension (RA):Â  10 hour
Declination (DEC):Â  -20 degrees
Area (square degrees): Â 1,303 (1st)

Hydra (The Water Snake)
Hydra is the largest of the 88 constellations in the northern and southern sky, measuring 1,303 square degrees; its head, formed by a loop of six stars between magnitude +3.0 and +4.0, lies just north of the Celestial Equator. The head of Water Snake is under the constellation of Cancer (The Crab).
It should not be confused with the similarly named constellation of Hydrus.
Messier Objects
M48  –  Open Cluster; visible to the naked eye under good conditions.
M68 Â – Â Globular Cluster; wonderful challenging object for naked-eye detection.
M83 Â – Â Barred spiral galaxy; also known as the Southern Pinwheel – one of the closest and brightest barred spiral galaxies in the sky, making it visible with binoculars. (Six supernovae have been observed in M83.)
Features of Interest
NGC 3242 Â – Â Planetary Nebula; also commonly known as the Ghost of Jupiter; very high surface brightness and a bluish colour. (See the Video.)
Named Stars
Alphard (Alpha Hya) – Orange giant star of magnitude +2.0. (Its traditional name means "the solitary one".)
Al Minliar al Shuja (Sigma Hya)
Others
Photo of the constellation;Â Hydra, as it appears to the naked eye. (Lines have been added for clarity.)
Sky Chart  –  Hydra
List of stars in Hydra.
Back to The 88 Constellations Lists  page.