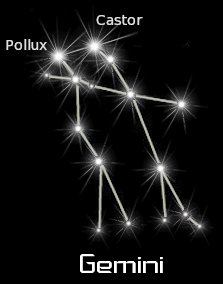 Abbreviation: Â Gem
English Name: Â The Twin
Genitive:Â Castor
Hemisphere:Â Â Northern Hemisphere
Location:Â Between the constellations of Cancer and Auriga.
Visible between latitudes: Â +90 and -60 degrees
Best season: Winter
Seen in three seasons:Â Autumn, Winter and Spring
Best seen in:Â  Early February
Seen between: November and April
Right Ascension (RA):Â Â 07 hour
Declination (DEC):Â Â +20 degrees
Area (square degrees): Â 514Â (30th)

Gemini (The Twin)
The constellation of the Zodiac; the Sun passes through it from 21st June and 20th July.
Its brightest stars are Castor and Pollux are twin brothers, together known as the Discuri; an extrasolar planet orbiting massive Pollux star there.
Messier Objects
Features of Interest
NGC 2392 – The Eskimo Nebula or Clown Face Nebula; planetary nebula with a magnitude +9.2 – in a large telescope, its magnitude +10.0 central star is visible, along with its blue-green elliptical disk. (See the photo: seen by small telescope / large telescope.)
Named Stars
Castor (Alpha Gem)
Pollux (Beta Gem)
ALHENAÂ (Gamma Gem)
Wasat (Delta Gem)
Mebsuta (Epsilon Gem)
Mekbuda (Zeta Gem)
Propus (Eta Gem)
Propus (Iota Gem)
Tejat Posterior (Mu Gem)
Alzirr (Xi Gem)
Propus (1 Gem)
Others
Photo of the constellation;Â Gemini, as it appears to the naked eye. (Lines have been added for clarity.)
Sky Chart  –  Gemini
List of stars in Gemini.
Back to The 88 Constellations Lists  page.