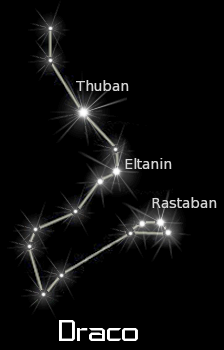 Abbreviation: Â Dra
English Name: Â The Dragon
Genitive:Â Thuban
Hemisphere:Â Â Northern Hemisphere
Location:Â Between the constellations of Lyra and Ursa Minor.
Visible between latitudes: Â +90 and -15 degrees
Best season: Summer
Seen in three seasons:Â Spring, Summer and Autumn
Best seen in:Â  Early July
Seen between: Circumpolar (This constellation of Camelopardalis stays in the Sky all the year.)
Right Ascension (RA):Â  17 hour
Declination (DEC):Â Â +65 degrees
Area (square degrees): Â 1,083 (8th)

Draco (The Dragon)
Long rambling northern constellation representing the dragon slewing by Ursa Major and Hercules, with the Dragon's head near the star, Vega.
Some 5,000 years ago, the brightest star; Alpha Thuban, was the North Pole Star in ancient times, today our North Pole Star is now Polaris, also known as The North Star.
Messier Objects
No Messier Objects in Draco.
Features of Interest
Named Stars
Thuban (Alpha Dra)
Rastaban (Beta Dra)
ETAMINÂ (Gamma Dra)
Nodus Secundus (Delta Dra)
Tyl (Epsilon Dra)
Aldhibah (Zeta Dra)
Ed Asich (Iota Dra)
Gianfar (Lambda Dra)
Arrakis (Mu Dra)
Kuma (Nu 2 Dra)
Grumium (Xi Dra)
Alsafi (Sigma Dra)
Dsiban (Psi 1 Dra)
Others
Photo of the constellation;Â Draco, as it appears to the naked eye. (Lines have been added for clarity.)
Sky Chart  –  Draco
List of stars in Dorado.
Back to The 88 Constellations Lists  page.