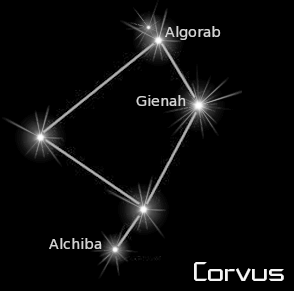 Abbreviation: Â Crv
English Name: Â The crow
Genitive:Â Alchiba
Hemisphere:Â Â Southern Hemisphere
Location:Â Between the constellations of Hydra and Crater.
Visible between latitudes: Â +60 and -90 degrees
Best season: Spring
Seen in three seasons:Â Winter, Spring and Summer
Best seen in:Â  May
Seen between:Â March and June
Right Ascension (RA):Â  12 hour
Declination (DEC):Â  -20 degrees
Area (square degrees): Â 184Â (70th)

Corvus (The Crow)
Four bright stars form having four sides in Corvus form a feature shape called a Keystone, which easy to find.
Messier Objects
No Messier objects in Corvus.
Features of Interest
Named Stars
Alchiba (Alpha Crv)
Kraz (Beta Crv)
Gienah Ghurab (Gamma Crv)
Algorab (Delta Crv)
Minkar (Epsilon Crv)
Others
Photo of the constellation;Â Corvus, as it appears to the naked eye. (Lines have been added for clarity.)
Sky Chart  –  Corvus
List of stars in Corvus.
Back to The 88 Constellations Lists  page.