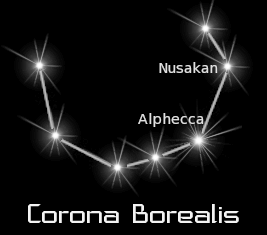 Abbreviation: Â CrB
English Name: Â The Northern Crown
Genitive:Â Alphecca
Hemisphere:Â Â Northern Hemisphere
Location:Â Between the constellations of Hercules and Bootes.
Visible between latitudes: Â +90 and -50 degrees
Best season: Summer
Seen in three seasons:Â Spring, Summer, and Autumn
Best seen in:Â  July
Seen between:Â March and September
Right Ascension (RA):Â  16 hour
Declination (DEC):Â Â +30 degrees
Area (square degrees): Â 179 (73rd)

Corona Borealis (The Northern Crown)
Small constellation in the northern sky; the curve, known as "The Northern Crown" has inspired by its shape as a crown with seven stars make it easy to find.
Those stars make up the constellation's figure are all stars – magnitude +4.0, except for the constellation's brightest star, Alpha Coronae Borealis, but the curve of seven stars makes the constellation easy to find.
Messier Objects
No Messier objects in Corona Borealis.
Features of Interest
Corona Borealis contains no bright Deep Sky Objects (DSO).
In the "Bowl" of the Northern Crown is a famous variable star; R Coronae Borealis is a yellow supergaint star – itself normally shines at around magnitude +6.0 to about visible to the naked-eye, but at the length-time of several months to many years fades down to as faint as magnitude +14.0! (See the Data of R Coronae Borealis.) (R Coronae Borealis; location in the Star Atlas.)
Named Stars
Alphekka (Alpha CrB)
Nusakan (Beta CrB)
Others
Back to The 88 Constellations Lists  page.