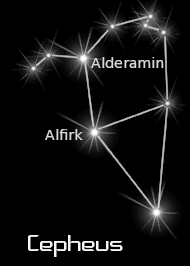 Abbreviation: Â Cep
English Name: Â The Cepheus King
Genitive:Â Alderamin, sometimes spelt Al Deramin.
Hemisphere:Â Â Northern Hemisphere
Location:Â Between the constellations of Cassiopeia and Draco.
Visible between latitudes: Â +90 and -10 degrees
Best season: Autumn
Seen in three seasons:Â Summer, Autumn & Winter
Best seen in:Â  October
Seen between:Â August and December
Right Ascension (RA):Â  22 hour
Declination (DEC):Â Â +70 degrees
Area (square degrees): Â 588Â (27th)

Cepheus (The Cepheus King)
This far northern constellation, almost to the North Celestial Pole (NCP), represents a King but its helping shape makes easy to locate as a house pattern.
In the sky, "northward" always means "toward the sky's north pole," or toward Polaris. Thus the roof of the house in Cepheus is pointing mostly north.
Messier Objects
No Messier objects in Cepheus.
Features of Interest
NGC 188 – Open Cluster, also known as Caldwell 1 (C01), very close to North Celestial Pole (NCP), under five degrees away.
NGC 7023 – The Iris Nebula, also known as Caldwell 4 (C04), is a bright reflection nebula – actually the cluster within the nebula; LBN 487.
NGC 6946 – The Firework Galaxy, also known as Caldwell 12 (C12), face-on spiral galaxy with colourful relating to a firework by the births and deaths of brilliant massive stars in the astrophotography.
Named Stars
Alderamin (Alpha Cep)
Alfirk (Beta Cep)
Alrai (Gamma Cep)
Herschel's "Garnet Star" (Mu Cep)
Alkurhah (Xi Cep)
Al Kalb al Rai (Rho 2 Cep)
Others
Photo of the constellation;Â Cepheus, as it appears to the naked eye. (Lines have been added for clarity.)
Sky Chart  –  Cepheus
List of stars in Cepheus.
Back to The 88 Constellations Lists  page.