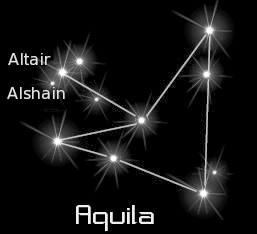 Abbreviation: Â Aql
English Name: Â The Eagle
Hemisphere:Â Â Northern/Southern Hemisphere
Location:Â Between the constellations of Delphinus and Scutum.
Visible between latitudes: Â +85 and -75 degrees
Best seen in:Â  September
Seen between:Â July and September
Right Ascension (RA):Â  20 hour
Declination (DEC):Â Â +05 degrees
Area (square degrees): Â 652Â (22nd)
Aquila (The Eagle)
The main star in Aquila – Altair is the bright star at the top left of above picture, flanked on its left and right by Alshain star and Tarazed star.
Altair, along wit Deneb and Vega form the well-known Summer Triangle.
Most of this constellation lies in the Northern Hemisphere of the night sky, although the celestial equator crosses it.
The Milky Way runs through this constellation and is very rich in this region.
Messier Objects
No Messier objects in Aquila
Other objects in Aquila
Features of Interest
NGC6709Â is an Open Cluster is visible in a telescope with ease, it's harder in binoculars requiring to avoid vision to see it.
Locating the map for the Open Cluster NGC 6790.
Brightest Objects in 
Named Stars
Altair (Alpha Aql)
Alshain (Beta Aql)
Tarazed (Gamma Aql)
Deneb el Okab (Epsilon Aql)
Deneb el Okab (Zeta Aql)
Others
Photo of the constellation – Aquila, as it appears to the naked-eye (Lines have been added for clarity.)
Sky Chart  –  Aquila
List of stars in Aquila.
Back to The 88 Constellations Lists  page.