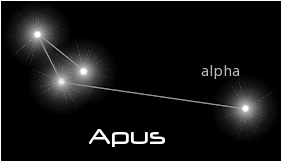 Abbreviation: Â Aps
English Name: Â The Bird of Paradise
Genitive: Apodis
Hemisphere:Â Â Southern Hemisphere (Never visible from the UK.)
Location:Â Between the constellations of Triangulum Australe and Octans.
Visible between latitudes: Â +05 and -90 degrees
Best season: Summer
Sen in three seasons: Autumn, Summer and Spring
Best seen in:Â Â July
Seen between:Â May and August
Right Ascension (RA):Â  16 hour
Declination (DEC):Â Â -75 degrees
Area (square degrees): Â 206 (67th)
Apus (The Bird of Paradise)
It is not easy to identify and contains few objects of note.
A far-southern constellation representing the bird of paradise, Apus was named by Johann Bayer.
Apus lies just south of Triangulum Australe very near the South Celestial Pole (SCP).
Messier Objects  in Apus
No Messier objects in Apus.
Other objects in Apus
Features of Interest
The brightest star is Delta Apodis of magnitude +3.8.

Apodis – a wide double star, easily divided with binoculars, they are both red giants.
Brightest Objects in Apus
Others
Photo of the constellation – Apus, as it appears to the naked-eye (Lines have been added for clarity.)
Sky Chart  –  Apus
List of stars in Apus.
Back to The 88 Constellations Lists  page.