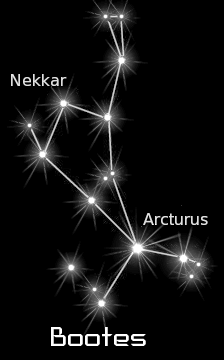 Abbreviation: Â Boo
English Name: Â The Herdsmans
Genitive:Â Arcturus
Hemisphere:Â Â Northern Hemisphere
Location:Â Between the constellations of Coma Berenices and Corona Borealis.
Visible between latitudes: Â +90 and -50 degrees
Best season: Spring/Summer
Seen in three seasons:Â Summer, Autumn & Winter
Best seen in:Â  May/June
Seen between:Â March and July
Right Ascension (RA):Â  15 hour
Declination (DEC):Â Â +30 degrees
Area (square degrees): Â 907Â (13th)
Bootes (The Herdsman)
Bootes is an elongated constellation;
The brightest star in north of the Celestial equator – Arcturus.
It is an orange giant star to the naked-eye at the night sky.
100 times more luminous-bright than the Sun.
Messier Objects
No Messier objects in Bootes.
Features of Interest
Bootes is in a part of the celestial sphere facing away from the plane of our home galaxy – Milky Way, and so does not have open clusters or nebulae.
Named Stars
Arcturus (Alpha Boo)
Nekkar (Beta Boo)
Seginus (Gamma Boo)
IZARÂ (Epsilon Boo)
Mufrid (Eta Boo)
Asellus Primus (Theta Boo)
Asellus Secondus (Iota Boo)
Asellus Tertius (Kappa 2 Boo)
Alkalurops (Mu 1 Boo)
Merga (38 Boo)
Others
Photo of the constellation – Bootes, as it appears to the naked-eye. (Lines have been added for clarity.)
Sky Chart  –  Bootes

List of stars in Bootes.
Back to The 88 Constellations Lists