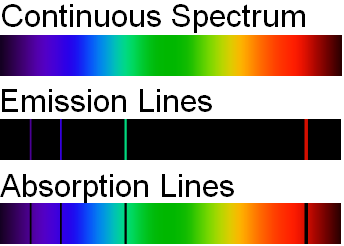 Spectral Classification of Stars
.
Continuous Spectrum
continuous spectrum of colours is produced by the hot, dense surface of a star such as the Sun.
light from Sun, stars and others sources can be studied using an instrument called a spectrograph, attached to the viewing end of a telescope. (photo)
spectrograph – it has a very small, slit-like aperture at the telescope's point of focus so that only the light from a particular source enters the instrument.
inside the spectrograph – a device called a collimator turns the cone of light into parallel rays and these are then split into a spectrum by a glass prism. (diagram)
spectrum with more blue and than red point out as show a very hot star , such as a white dwarf, while a spectrum with more

red

than

blue

show out large – fairly col star such as a red giant.
each of the chemical elements absorbs and emits the light at very accuracy wavelenghts and these produce spectral lines that can be used to identify the different elements present in a star.
.
Absorption lines

dark absorption lines – laying on continuous spectrum (continuum) shows that some of light has been absorbed on its way to Earth.
for example – carbon absortion lines may show to point out that the light has passed through a cloud of interstellar dust. (See below – Emission Lines.)
.
Emission Lines
On the right, this is called an emission line spectrum.
(Absorption lines and emission lines will be in the same place for the same gas.)
clouds of high-temperature, low-pressure gas, such as nebulae to produce a spectrum that consists only a series of bright emissions lines. (diagram) (diagram)
wide emission lines – rapidly rotating or expanding gas that may have been produced by a supernova.
.
Lists of Solar Observatories
.Back to Astronomy page